The Mighty vaporizer's portability, efficiency and style pair with full hot air convection heating for a vaping experience you won't soon forget. Designed to fit in your pocket, the Mighty can be taken on the go, so you can vape  anytime, anywhere you please.
While bulkier than other portable vaporizers, this Storz & Bickel model wins in the vapor quality and bowl size departments.
Mighty Vaporizer Features and Vapor Quality
Full hot-air convection heating
Battery powered
Pocket-sized
4 cm3 filling chamber
Flippable mouthpiece
Cooling unit
LED display
Two lithium ion batteries
Compatible with a host of accessories
The Mighty boasts a number of convenient features that enhance the vaping experience, but it also offers all of the features you've come to expect and appreciate in a portable vaporizer.
Let's explore this vaporizer to see what it has to offer:
Portable But Big
Let's be clear- the first thing I want to point out about the Mighty is that it's bigger than most other portable vaporizers out there. While it technically is pocket-sized, it's bulkier than its competitors and isn't quite as travel-friendly as other units.
Does that mean that you can't take the Mighty on the go? No.
It just means that you have to be more careful.
With dimensions of 5.5″ x 3.2″ x 1.2," this is one of the biggest portable vaporizers on the market today. It's quite heavy, too, at 230 grams. The Pax 2, by comparison, is just 90 grams.   The size difference leads to a substantial difference in vapor quality and is well worth the trade off though.
Large Filling Chamber and Cooling Unit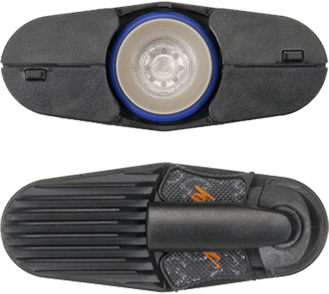 The Mighty has a generous filling chamber – 1.4 cm3. That's about 0.25 grams of herb. With an ultra-fine grind, you can get up to 0.3 grams of dried herb.
What you'll love about this chamber is that you can use herbs or liquids if you have Liquid Pads.
The filling chamber is easy to pack, and the vaporizer comes with a Filling Aid that makes it so much easier to fill the bowl. After you pack the bowl with your herb, all you have to do is reattach the cooling unit and get right to vaping.
There's also a cooling unit and a flippable mouthpiece for maximum comfort. The design of the vaporizer's housing also keeps the unit cool to the touch, so you never have to worry about overheating during group sessions.
The mouthpiece and cooling unit also allow you to enjoy optimal flavor and great quality vapor.
Precise, Simple Temperature Controls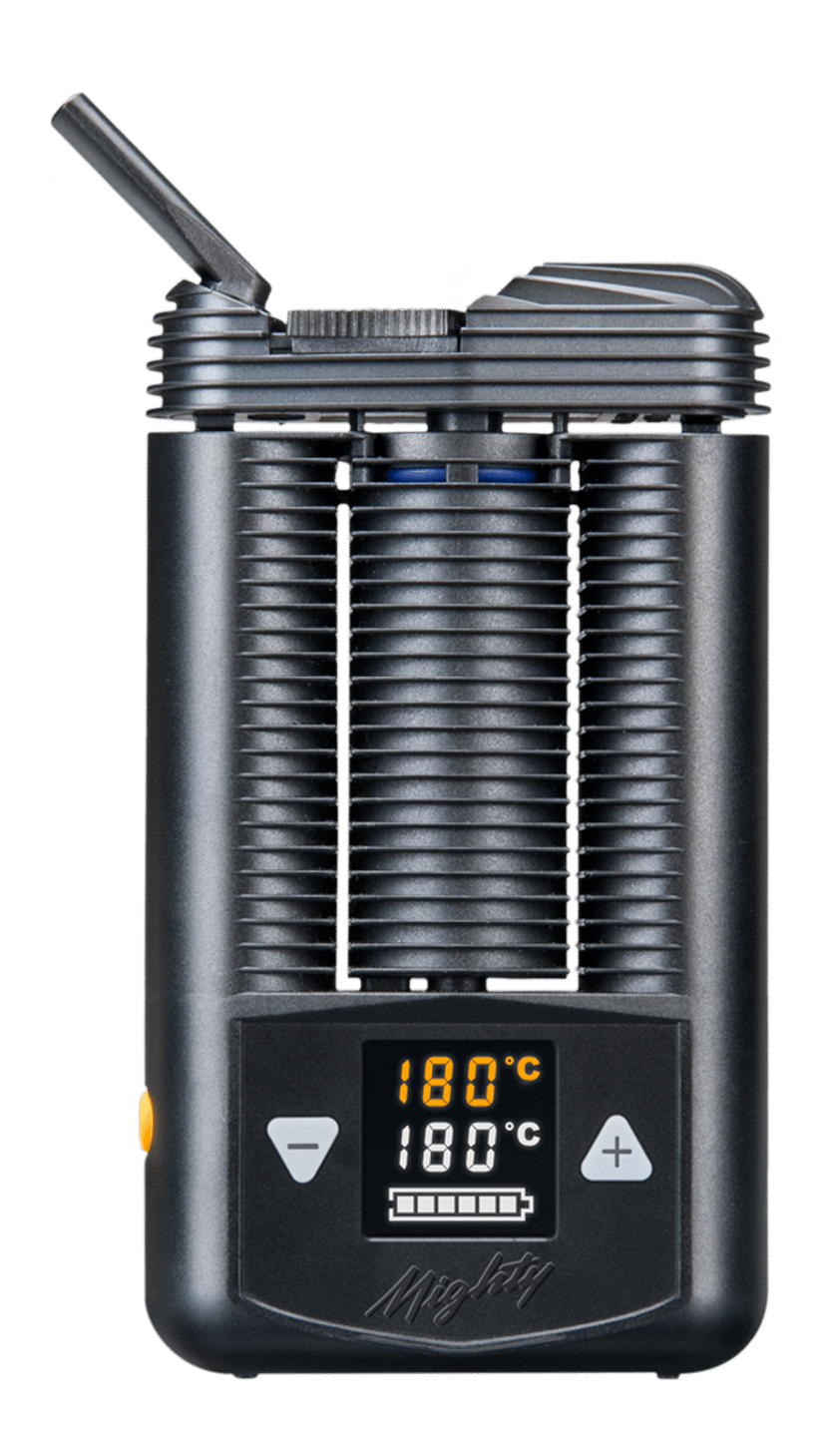 The Mighty is easy to use, so you won't have to spend hours trying to learn how to use it. The LED display allows you to view the current temperature at a glance.
There are also plus and minus buttons that allow you to set the temperature directly on the device.
The temperature range is between 105 and 410F
Being able to set the precise temperature you want allows you to vaporize your material – not burn it.
Speaking of burning – this vaporizer uses convection heating to vaporize your herbs. Convection heating produces thick, dense vapor without the need to stir.
The nice thing about this vaporizer is that you don't have to use an app to control the temperature or turn the device on or off. You can do everything directly from the vaporizer itself.
Heat-up time is ultra-fast, too. It takes about 1:30 to heat up, which is much faster than other competing vaporizers, like the Crafty.
Long Battery Life for Longer Sessions
The Mighty lets you keep the pleasure going, with two powerful lithium ion batteries. Carry around an extra pair to extend your session, or plug it into the wall for unlimited use.
With the included power adapter, you can keep it going all night long.
If you don't want to be tied to a power cord, you'll be happy to know that the battery life of this vaporizer is quite long. You can get in about 90 minutes of continuous use on one charge.
The only drawback with recharging is that there's no option for USB charging. You must plug the unit into a wall socket to recharge.
Accessories
The Mighty is compatible with a slew of accessories, so you can make this vaporizer truly your own. These accessories include:
Cooling unit set
Filling aid
8-dose capsule magazine
Car charger
Liquid capsule caddy
Herb mills
The Mighty also comes with quite a few accessories to help you get started, including:
Power adapter
Set of spare seal rings
Liquid pad
3-piece spare screen set
1 herb mill
1 filling aid
1 cleaning brush
1 dosing capsule
How Does the Mighty Compare to the Crafty?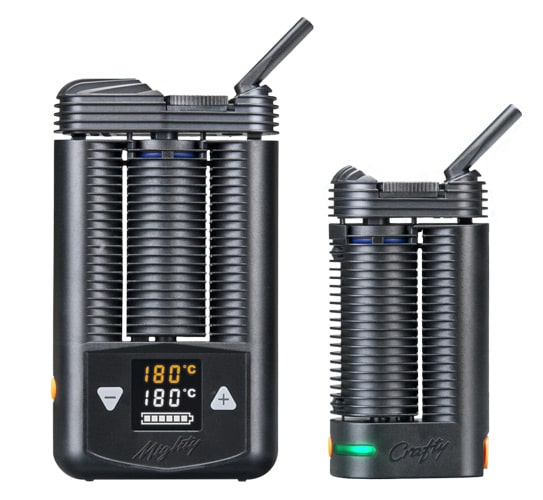 The Crafty is Storz and Bickel's other portable vaporizer, and this one is a bit more travel-friendly.  The Crafty is lighter and smaller than the Mighty and would be preferred for those whose top priority is 'stealth' mode.
The Crafty's filling chamber is about the same size, and it also comes with a cooling unit and flippable mouthpiece.  Like the Mighty, it has an LED indication and simple controls.
One of the main differences is that the Crafty model is more technologically advanced, in that it is designed for use with a smartphone. The Bluetooth remote control allows you to personalize your experience.
But what if you don't have a smartphone or simply want to dial in your settings on the vaporizer directly?
That is where The Mighty vaporizer steps in.  Much better onboard controls and more power.
Of course, you can still use the Crafty without a smartphone, but the onboard controls aren't quite as robust and it takes a little longer to heat up. A slightly longer heat-up time isn't a deal-breaker, but still something that needs to be considered when deciding which device is better for you.
On the other side, the Crafty is smaller and lighter (about 135 grams), which makes it more discreet and better for on-the-go use.
That is why Storz & Bickel created both vaporizers.   They are both in the "portable" category and their vapor quality is unrivaled in that space.  But you can decide which is best for your own personal situation.
The Mighty produces excellent quality vapor while offering a longer battery life, more onboard controls and the ability to use the vaporizer without a smartphone app.
Ultimately, these two vaporizers are some of the best portable devices on the market, and you can't go wrong with either one. It all comes down to personal preference.
With that said, the Mighty has a lot going for it. It's versatile, easy to use, reliable and built to last.